Full Stack Development is a job that exhibits superlative IT skills and versatility in software programming. It would not be wrong if we call a Full Stack Developer the jack of all trades. Gaining much attention with rapid technology change, the demand for Full Stack Developers has been consistently increasing over the past few years. In fact, a full stack web developer salary in India is one of the highest-paid salaries in the tech industry
Highlight: Linkedin has featured it in its list of Emerging Job Report 2020 for the second consecutive year. According to the report, this role has seen a hiring growth of 35% every year since 2015.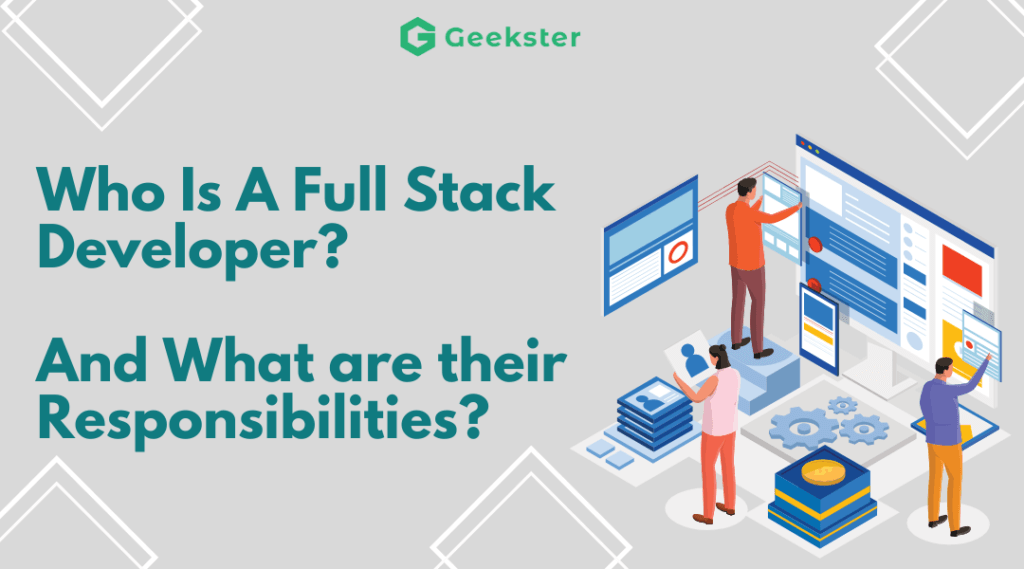 Who Is A Full Stack Developer?
A Full Stack Developer is someone who manages both the frontend and backend of the software development process. If we simplify it further, Full Stack Development is an approach where a single person works on building the core of an application while also designing the user interaction side of the product through all the engineering stages.
The frontend of a web app contains the customer-facing side of the app and includes elements that users interact with directly. A frontend developer optimizes the visible part of the website. They work on making the components responsive to the different viewing environments. They work with frontend programming languages like HTML, CSS, Javascript, etc.
The backend deals with the internal software that operates the organization's database and server. Backend developers create pathways for delivering information to and from users through the frontend.
Responsibilities Of A Full Stack Developer
A full stack developer is thus responsible for the following:
Working on the website from start to finish
Creating prototypes and developing the website while working with the interface teams
Designing robust frontend architecture for creating a user interface
Managing the database and server
Ensuring product effectiveness by communicating with the users
Full Stack Developer Salary in India
A web developer's salary range depends on a lot of factors like skills, experience, location, and company.
Full stack developer's salary in India begins from 3 lakhs per annum for freshers and as you get experienced in your field, you can easily make up to 40 lakhs per annum. If you are a highly skilled fresher with an experience range of 1-4 years, you can easily get a job of 5-6 lakh. Mid-level experience with 5-9 years in the industry can get you a paycheck of 12 lakhs and above.
| Experience | Salary Range |
| --- | --- |
| Beginners | 3-5 Lakhs |
| Skilled Freshers (1-4 Years) | 5-6 Lakhs |
| Mid-Level Experience (5-9 Years) | 12 Lakhs and Above |
When it comes to companies, the average salary begins from 4.5 lakhs per annum. Organizations like Posist Technologies, Tapzo, Oracle, etc pay salaries ranging between 8.34 lakh per annum to 21.7 lakh per anum. Companies like TCS, IBM, Infosys, and others pay salaries ranging from 4.5 lakh per annum to 6.5 lakh per annum.
In the case of demography, cities like Bengaluru, Hyderabad, Pune, Chennai, Delhi, Kolkata, Mumbai, and Ahmedabad pay higher salaries compared to other cities. In Mumbai, Bengaluru, Hyderabad, and Pune you can quickly get a job that pays you 7 lakhs per annum
If you look at the skills the average full stack web developer salary looks something like this
ReactJS–5.6 LPA
JavaScript– 5.96 LPA
AngularJS– 9.26 LPA
NodeJS–6 LPA
Python– 3.5 LPA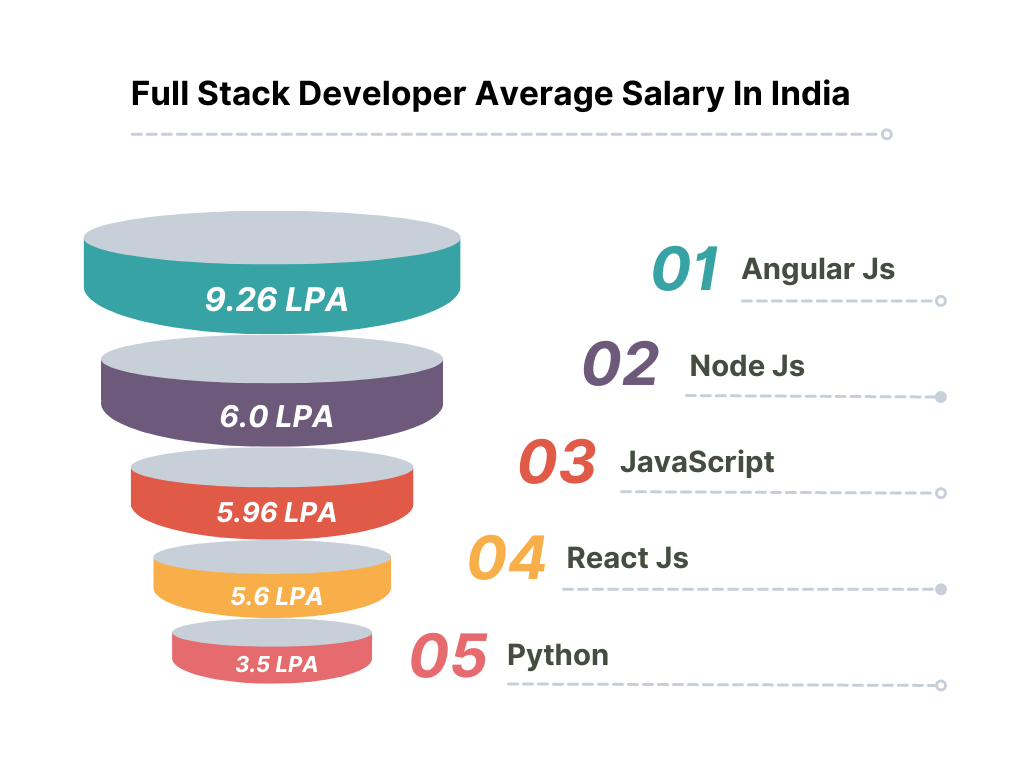 Full Stack Web Development Salary in Pune, Chennai, Bangalore, Mumbai
| Cities | Average Annual Salary |
| --- | --- |
| Pune | 6.2 Lakhs Per Annum |
| Chennai | 5.6 Lakhs Per Annum |
| Bangalore | 7 Lakhs Per Annum |
| Kolkata | 4.7 Lakhs Per Annum |
| Hyderabad | 6.5 Lakhs Per Annum |
| Gurugram (Gurgaon) | 8 Lakhs Per Annum |
Source – ambitionbox
Why Choose Full Stack Development as a Career?
1. Choose This If You Want Immense Career Growth
Companies nowadays look for multi-talented professionals who can perform more than one role while keeping up with the market. This has made the Full Stack Developer's salary the highest in India. Being multidimensional opens umpteen job opportunities as companies always look for optimizing their resource cost. Since an experienced Full Stack Developer is more effective in cost, skill, and tech; than a team who works on different layers of the product, startups and new-age companies prefer a one-man army over a team.
2. Build a Diverse Skill Set – Because The Competition in IT is Never-Ending
A Full Stack Developer must know the importance of soft skills and technical skills. Pursuing Full Stack development enables you to learn diverse skills and combine them to develop excellent products. You will gain knowledge in database technologies, backend coding, and programming languages like Java, PHP, Node JS, Python, Ruby, etc. You get to build your expertise in diverse skill sets as you will be responsible to know the in-and-out of the backend and frontend of an application with Full Stack Development.
3. Great Pay
With the rising demand for Full Stack Developers, the pay scale has also increased for this role. And it would not be wrong if we say that you will be one of the highest-paid professionals as a Full Stack Developer. If you have diverse knowledge and the right skill set, companies will pay handsomely. According to a survey conducted by Indeed, a Full Stack web development salary in India is more than the average salary of other software developers, and this is the reason why full stack developers are in demand in 2022.
4. Creative Flexibility
Since you are the expert on multiple aspects of the development process, you have more flexibility. You have more control as you work on both the database and the client side of the application. Having diverse knowledge also opens up opportunities for you to lead projects and play critical roles.
So, if you are someone who loves coding, has a knack for technology, is innovative, and loves creative freedom, then pursuing Full Stack Development is one good choice for utilizing your potential.
If you dream of earning handsomely from the very beginning of your career in just 5 months then honing your technical skills with Geekster will take you closer to fulfilling that dream and becoming a Full Stack Developer.
5. Less dependency
A full stack developer does not have to wait for the other team members to help or finish their work to deliver a project. Since they are trained to work on both the frontend and backend they can complete a project themselves and thus save a lot of time.
6. Changing job prospects
As time passes, people are realizing the worth and importance of a full stack developer. They are looking for multifaceted talent like full stack developers for their organization. Right now, you have the scope of working as a frontend or a backend developer but soon these two jobs will become obsolete because of the value a full stack developer brings. This is also proven by the fact that a full stack web development salary in India is more than a frontend or a backend developer.
How To Become A Full Stack Developer?
If you want to pursue a successful career in programming then the full stack is the right choice for you. For becoming a full stack developer, you would need to master a lot of skills like:
HTML
CSS
Javascript
SQL/NoSQL
DOM manipulation
Java
Object-Oriented programming, etc.
Even though you can learn things by yourself but it is likely that you will get lost. So questions arise on how to become a software engineer.
Becoming a full stack developer/software engineer will be a cakewalk if you join an online academy offering a placement guarantee while honing your technical and soft skills. There are numerous courses available online for full stack.
But it is important to choose an academy that focuses on you and offers a comprehensive course with an option to pay after placement. Geekster is one such academy that offers two courses- full stack web development, and advanced web development. You can earn a competitive full stack developer salary after this course.
How Much Is The Full Stack Developer Course Fee?
The fee for full stack developer course depends on the institution, program duration, curriculum, etc. You should do a thorough research first before buying the course and also check their reviews.

You can also check out Geekster's full stack developer course as we offer 100% job guarantee with placement. The cost for a full stack developer course is ₹75000 + Taxes. You will get full placement support and mock interview sessions.
It is literally pennies compared to what full stack web developer salary in India is after taking a full stack development course. You can begin by earning 5-8 lakhs at the beginning of your professional full stack career and you can reach up to 30 lakhs per annum with time, experience, and skills. 
FAQ'S
Q – 1 How much can I earn as a Full Stack Developer?
Ans – You can earn on an average between 4-8 lakhs per annum as a fresher while experienced Full Stack Developers can earn up to 14 lakhs per annum.
Q – 2 Can I work from home as a Full Stack Developer?
And – It is technically possible for Full Stack Developer to work from home at this time but it depends on the company's policy.
Q – 3 What would I learn in Full Stack Development?
And – You will have to learn various languages like HTML, CSS, JavaScript, tools and technologies, and frameworks like Django, MongoDB, Express.js, etc.
Q – 4 Is becoming a Full Stack Development difficult?
Ans – Full Stack Development is a very rewarding profession but it does require dedication. It is easy to learn if you have good mentors to guide you.
Q – 5 What is the difference between Full Stack Development, Frontend, and Backend Development?
Ans – Frontend developers manage the client side of the web app i.e. the UI of the app while the backend developers manage the server side of the app. A Full Stack Developer manages both the frontend and backend of the web app.